The Captain Was a Doctor:
The Long War and Uneasy Peace of POW John Reid
Jonathon Reid
Dundurn, Toronto, 2020
ISBN 9781459747210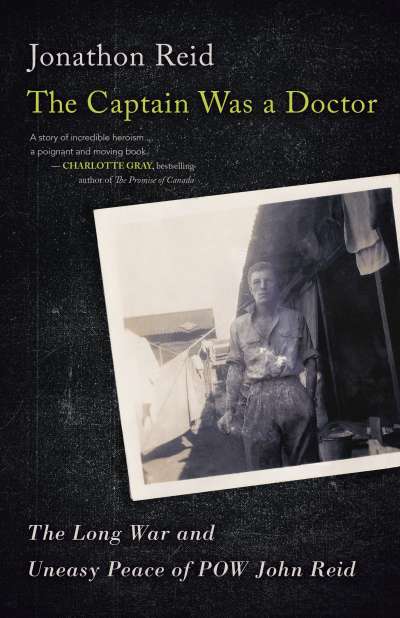 Ostensibly, this book recounts the experiences of a Canadian Army doctor, Capt. John Reid, who was sent to Hong Kong in November 1941, was captured by the Japanese, and then spent almost four years in Japanese POW camps.
But the story is written as a biography covering Reid's full life. As one reads through the book, one realizes that the story is actually about a promising young man with a bright future and a loving family, whose future was irrevocably scarred and compromised by his wartime experience.
John Anthony Gibson Reid was born on 06 October 1913 into a middle-class family in Toronto. He graduated from the University of Toronto in 1938 with a medical degree, looking forward to a promising career. But, with World War II well underway, in August 1941 Reid enlisted in the Canadian Army. He was then assigned to accompany one of the two Canadian regiments sent in November 1941 to reinforce the British garrison in Hong Kong. They arrived just in time for the Japanese attack on 07 December 1941.
After a year in Hong Kong, Reid was transferred to Japan as the doctor and only officer in a draft of five hundred men. One can only guess at the unremitting strain of having to constantly beg and bargain with his Japanese captors on behalf of the men in his charge. But the years of unremitting strain and self-sacrifice, together with the atrocious food and appalling living conditions, took a heavy toll. Only when Reid got back to Canada did the toll begin to reveal itself.
The subsequent story of Reid's postwar experience is written as a factual narrative, but the man who came back to Canada after the war was clearly not the same man that left for Hong Kong in 1941. The narrative contains hints of psychological distress: references to waking up screaming from nightmares, certain bizarre personality traits. In particular he was psychologically, perhaps even physically, unable to talk about his experiences, even when it seemed that he wanted to, not even to those closest to him. Reid also had a lot of trouble settling down. In time, he met another woman, divorced his first wife and started a second family.
But finally the privations and strain of the prison camps caught up to Reid. In January 1974, he suffered a severe attack of encephalitis from which he never completely recovered. Then, following increasing dementia and incapacitation, Reid died of pneumonia on 07 July 1979.
The author of this biography is Reid's eldest son. As the acknowledgements relate, this book came together almost by accident over several decades. The author kept running into, or hearing from, people who knew his father in Japan and who tried to keep in touch. Other sources included archival material written by returning POWs, all of which spoke admiringly, even reverentially, of his father. Indeed, much of the story is told through quotes from these accounts. The final impetus came from one of the Canadian POWs who was writing a book about their experiences in Japan and asked for some material about Reid.
A powerful book. Not an easy read, but one of the few accounts of this nature of which I am aware, to my mind very important and valuable. Highly recommended.
| | | |
| --- | --- | --- |
| | | Last updated: 12 February 2021 |