The Railway Man
Eric Lomax
First published by Jonathan Cape, 1995
This edition: Vintage, 2014
ISBN 9780099583844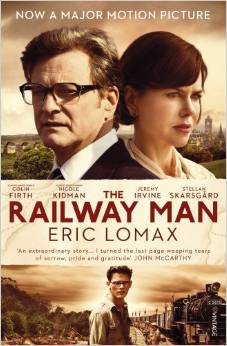 Many of you are likely aware of the film "The Railway Man", released in 2013. This is the book on which the film is based.
Eric Lomax was born in 1919 into a lower middle class Scottish family. In 1939 he enlisted, eventually took a commission in the Royal Signal Corps, was deployed to Malaysia, captured by the Japanese when Singapore surrendered in February 1942 and sent to a POW camp on the "death railway". In August 1943, guards discovered a clandestine radio in the prisoners' barracks, whereupon Lomax fell into the hands of the Kempeitei, the notorious Japanese military police. He was interrogated, brutally beaten and tortured, and finally sent to the notorious Outram Road Goal in Singapore. He was freed by British troops in August 1945.
Then began Lomax' terrible ordeal with PTSD. When he got back to England, he found that the civilian world could not comprehend the ordeal which he had undergone. This led to increasing loneliness and isolation. Then, in the early 1980's, he took the first steps to get help. He also met Patti, who helped him immensely and subsequently became his second wife.
In parallel with this narrative, the Japanese interpreter who had been present throughout the author's interrogation and torture, Nagase Takashi, had been seeking to atone for the actions of the Japanese Army in Thailand. Eventually Nagase and Lomax made contact with each other, were reconciled and, against all odds and instincts, became friends.
This terse outline of Lomax' story is necessary to understand the essence of the story, but by no means does justice to it. The author in fact wrote the story of his wartime experience immediately after his release from captivity before being repatriated to England. The remainder of the book was written in the early 1990's after the author had met and been reconciled with Nagase. The book was first published in 1995.
(A detailed comparison of the film and the book can be found at http://historyvshollywood.com)
This is not a long book and, in fact, it reads very easily, but I found the story so intense that I had to put the book down from time to time. It is not sensational, as many such books attempt to be today when relating this kind of story; it does not need to be because Lomax' understated and eloquent prose speaks for itself.
Eric Lomax died in 2012. Nagase Takashi, his Japanese protagonist, died in 2011. Patti Lomax at last report (2014) was still alive. This book is a worthy monument to their collective experiences. Most highly recommended.
| | | |
| --- | --- | --- |
| | | Last updated: 13 October 2015 |