Stars in My Eye:
35 Years of Navigation from WW2 to GPS
William F. Hoy
Published Privately 2017
ISBN 978-1-606465-3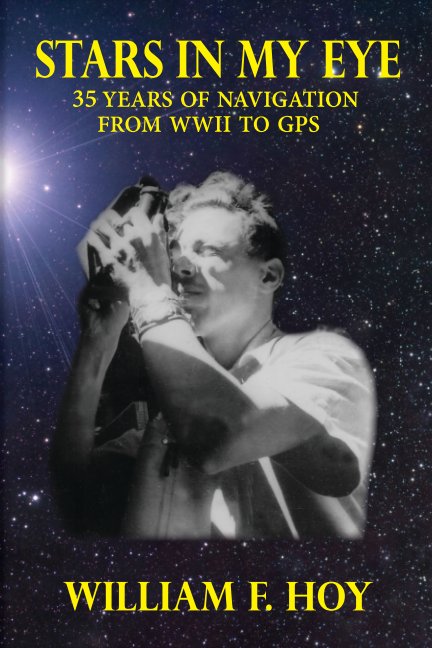 In February 2018, "The Torch" published what I thought would be my "last" review. That was before this book came to hand courtesy of a good friend who in the "old days" was station chief for KLM Royal Dutch Airlines in Montreal. I also bring this review forward because this book was published privately and is thus not widely available.
Hoy began his career as a navigator in 1942, aged eighteen, with RAF Ferry Command flying aircraft to Europe. Initially he flew on the southern route: Bermuda, the Caribbean, Brazil, Ascension Island, Dakar. Later he flew the northern route: Goose Bay, Narsarsuaq, Keflavik, Prestwick. Being navigator on these flights was a full-time job; position estimates and heading corrections based on star sights were made several times an hour.
After the war Hoy was discharged, but he rejoined in 1948, and gained extensive flying experience as a navigator in Northern Canada where map-reading skills and celestial navigation skills were critical because the magnetic compass was essentially useless.
Then, in 1956, he was posted to the U.S. Air Force Rome Air Development Centre as an exchange officer. There he worked on the very first automatic ground-controlled approach systems and other radio/radar-based navigation systems. He was also at RADC when the Russians launched Sputnik, and thus he witnessed the very early work on satellite navigation.
The remainder of Hoy's operational Air Force career was spent with 426 Transport squadron, stationed first at Dorval and later Trenton, and then with 412 Transport squadron based in Ottawa. These appointments took him literally all around the world, often to remote and underdeveloped areas where ground-based navigation aids were primitive or unreliable, and where, in the days before inertial navigation systems and satellite navigation, map reading skills and celestial navigation skills were vital.
Then, in 1974, at age 47, with no university degree and therefore no prospect for promotion, Hoy was forced to retire in spite of unmatched technical, operational and staff experience.
But Hoy was not yet finished. After retirement, he caught on with Department of Transport Flight Operations. His first major assignment was investigating the feasibility of real-time airborne ice reconnaissance in the Northwest Passage, with the resulting charts transmitted to Montreal by airborne telefax. Another major operational assignment during this time was being navigator on DOT's Lockheed Jetstar aircraft on an extensive series of flights to aid the development of satellite navigation. These flights took him all over Eastern and Northern Canada and the North Atlantic
Hoy finally retired for good in 1983.
As the author points out, his narrative is based on his diaries, flight logs and memory (pretty good memory!). Being personal, it cannot be construed as history, but it is certainly a good summary of one important part of the RCAF flying experience. It is also a good summary of what aerial navigation was like before the advent of inertial navigation and satellite navigation, in the days when navigators and radio operators were essential members of the flight crew. Highly recommended.
| | | |
| --- | --- | --- |
| | | Last updated: 02 June 2018 |